A Foundation Of Craftsmanship
The builders who have been chosen to design homes in Cibolo Canyons have one thing in common. They're all committed to impeccable quality and integrity in their work. So when you find your dream home here, you can feel good knowing the beauty is built to last for generations.
A Starwood Land Ventures community, Cibolo Canyons is backed by a real estate investment firm with considerable financial strength and 50 years of industry experience.
Sitterle Homes
With more than 50 years of experience building stunning new homes in Texas, Sitterle Homes has established a legacy of quality, beautiful design and customer satisfaction. Sitterle Homes builds in the most desirable communities in the Austin, Houston and San Antonio areas. Our team understands what homebuyers want: a unique home that truly reflects their individual style, a builder who uses the latest construction techniques, and a low-maintenance lifestyle.
Beazer Homes
Beazer Homes is a national, publicly traded builder with a focus on creating a durable and growing value for our customers. All homes are ENERGY STAR® certified, built to conserve energy, & reduce monthly utility costs. Plus, we offer a unique Mortgage Choice program, where homeowners will save money and enjoy great service when lenders compete, and they compare and choose. With over 300 years of building experience, it's all about creating an engaging and satisfying customer experience – a Beazer Homes promise.
CastleRock Communities
CastleRock is one of Texas' premier Design Build and Luxury Firms. From rural weekend escapes to Memorial area Customs, from $180,000 to $3 million, CastleRock will bring years of expertise to your project. Our homes are designed to create unique opportunities for our customers to satisfy their lifestyle needs with unexpected flair. Variety of choice remains a key driver in our offering decisions in both our home plans and communities. Like the "Rock" in our name, we provide a foundation upon which our customers will base their lives, raising their families and developing new relationships.
Model address – 4203 Colina Crest
Empire Communities
Local Texas homebuilder with corporate headquarters in Vaughan, Canada. Empire Communities brings 25 years of experience and uncompromising standards to the construction of our homes. Our team has built more than 12,000 new homes and condominiums, and we are very proud to bring our passion for homebuilding to many of the top communities in Texas. Imaginative floorplans, distinctive craftsmanship and exception customer service have won us numerous awards and the loyalty of our customers. We invite you to explore our fine collection of homes and look forward to having you and your family call one of our houses a home very soon.
Monticello Homes
Monticello Homes, formed in 1994 in San Antonio, has been building semi-custom and custom homes in select communities for over 25 years. Wayne Moravits, a native San Antonian, started Monticello when he saw a need in San Antonio for a home builder that could provide seamless service from initial design, preliminary pricing, interior selections, contract through construction management and warranty for new home buyers. Mr. Moravits set out to create a vertical business model that allowed the company to provide a seamless home building experience.
Twenty-five years later, Monticello Homes has become an industry-recognized and respected home builder that remains true to its initial goal of providing a clear and seamless process for customers to realize their dream of owning a luxury home regardless of price point or design
Model address – 22311 Estacado, San Antonio, TX 78261
Virtual Tour >
Website >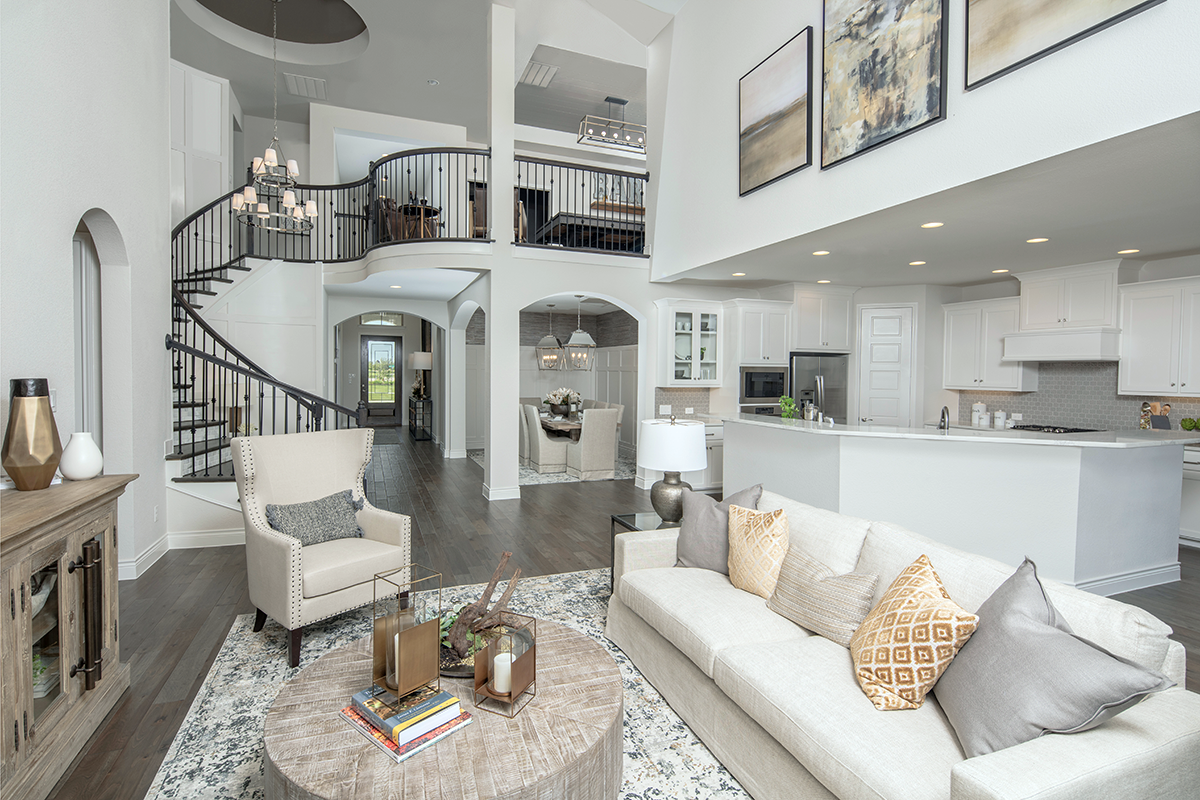 Perry Homes
For over 50 years, Perry Homes has built new homes for sale in Texas – selecting homesites in premier master-planned communities that have desirable locations, amenities and schools in Austin, Dallas, Houston and San Antonio. As one of the largest homebuilders in Texas, we understand what is important to our customers in their homebuying journey – whether it is their first or fifth home. Perry Homes is committed to continuing the tradition of excellence that our family-owned business is founded on. We invite you to learn more about our company values and exceptional homes that have built our reputation as one of the best Texas homebuilders.
Model address – 24158 Sidehill Lie, San Antonio TX 78261
Website >
3650 TPC Parkway San Antonio, TX 78261  (210) 737-1033
All information is not guaranteed and remains subject to change, availability or delay without notice. Any improvements, features and amenities described are based upon current development plans, which are subject to change and under no obligation to be completed. Maps and plans are not to scale, all dimensions are approximate and are intended to represent an artist's depiction only of the existing and/or planned elements of the community. This is not an offering in any state where prohibited or otherwise restricted by law. ©2022, Cibolo Canyons. All rights reserved.